HEVEA is a Danish brand, their strenght is continuous products developement and responsible production. HEVEA's products are 100% made from natural rubber. Natural rubber is a material that does not contain BPA, phthalates, PVC or dyes.
Naturalness and non-toxicity has always been the basis on which HEVEA as a company has been built.
This product includes:
1 Wide neck borosilicate baby glass bottle 250ml/8.5oz - perfect for babies and toddlers 3-24 months
1 natural rubber anti-colic nipple
1 natural rubber vacuum-sealing cap
1 natural rubber sleeve
HEVEA's new single-pack bottle comes with a natural rubber sleeve that covers the full length of the bottle - available in several colour options! This easy-on/easy-off sleeve, protects hands from the heat of a freshly warmed bottle, as well as further protects the robust borosilicate bottle from drops.
The one-piece design nipple (no plastic screw tread needed to attach) is made entirely from our beloved 100% natural rubber, and seals onto the bottle neck perfectly tight, without any leaks. And to top it all off, the natural rubber cap has a vacuum-seal finish, so no need to worry about spills on the go either.
Where does natural rubber come from?
Hevea Brasiliens, better known as rubber tree, is the main raw material for HEVEA products.
The farms have millions of trees that are "milked" early in the morning. Rubber "milking" refers to the process where the latex is drained from an opening made to the trunk of the tree. This task required special skills to enable the tree to a healthy and long life cycle.
Rubber trees can drain latex for an average of 35 years. During that time, the tree has time to bind about 20kg of carbon dioxide. In this way, HEVEA prevents climate change and fights against it.
The material used in HEVEA products comes from Southeast Asia, where the highest quality rubber trees are cultivated. The company actively fights against climate change and works in cooperation with manufacturers to ensure good working conditions both on farms and in factories.
When your choise is HEVEA- you choose a great product for your child and our planet!
Is natural rubber recyclable?
YES, natural rubber breaks down when exposed to sunlight, moisture and air.
By choosing rubber products instead of a plastic or silicone product, which are made from oil and petroleum, you prevent climate change! The production of the natural rubber product has not destroyed fossil fuels or tree plantations.
Did you know that it takes about a decade for a natural rubber toy to disappear from the earth, while it takes 500-1000 years for a plastic toy to disappear?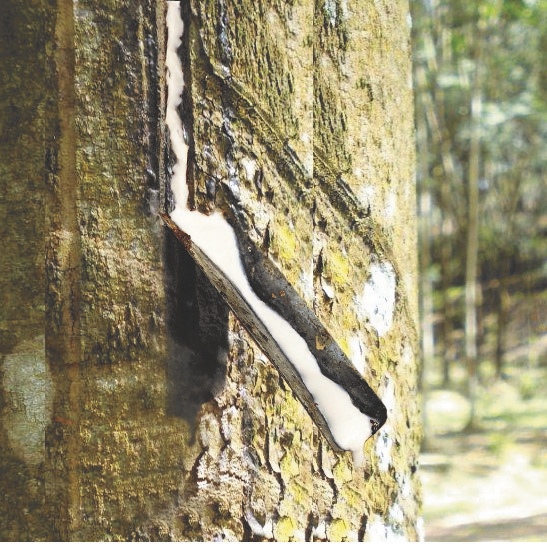 Natural rubber pacifiers are ecological and non-toxic
Natural rubber pacifiers are a plastic-free, non-toxic, safe and ecological alternative for newborns and toddlers.

The material is 100% natural rubber that does not contain BPA, phthalates, PVC or dyes.

Colored with non-toxic and organic mineral-based dyes.

Soft and gentle in the child's mouth, but resistant to chewing.

Since the pacifier is made from one piece, it eliminates bacteria, guaranteeing the most hygienic option. It also doesn't come off in pieces.

The butterfly-shape of the pacifier increases comfort, giving room for the

nose and cheeks. Small air holes on the pacifier allows skin to breathe. Natural rubber feels warm against the skin.

Natural rubber pacifiers are available with a round, anatomical and symmetrical suction part.

HEVEA pacifiers can be boiled!
HEVEA's Bumibébé is 100% natural rubber and thus a COMPLETELY plastic-free pacifier. In addition to lovely round pacifiers, you can find a cute chew toy in the Bumibébé collection.
A natural rubber chew toy is hygienic and the best option for gums. As a material, natural rubber is both gentle and very durable at the same time. The soft rubber feels comfortable in the baby's mouth and encourages chewing and rubbing of irritated gums.
Natural rubber products for eating
Natural rubber is a durable natural material that endures wear and tear. The completely silicone-free and plastic-free dining tray is also suitable for those practicing finger eating!
HEVEA's super popular baby bottles are made of durable tempered glass and have a beautiful pattern. The glass baby bottle is easy to keep hygienic and, if necessary, it can be protected with a natural rubber star ball. The suction parts of the baby bottles are 100% natural rubber.
"From trash to treasure"
HEVEA's upcycled products are made by utilizing discarded pacifiers and natural rubber left over from production. Natural resources are saved when a useful material is converted into another product, in which case it gains a greater value through a new purpose of use.
Hygienic toy for water play
HEVEA's bath toys do not have any so called air hole, which is why the product remains hygienic and does not collect water inside. The plant pigments used for coloring are intended for food use and approved by the FDA (U.S Food and Drug Administration).
The cute ocean bath toys from HEVEA's collection spray water without it getting moldy inside the toy. The bath toy opens completely from the bottom, so the toy can be easily dried after bathing. The toys cling to tiles or other smooth surfaces, such as the edge of the tub, from their lower part. This creates new imaginative moments during play times.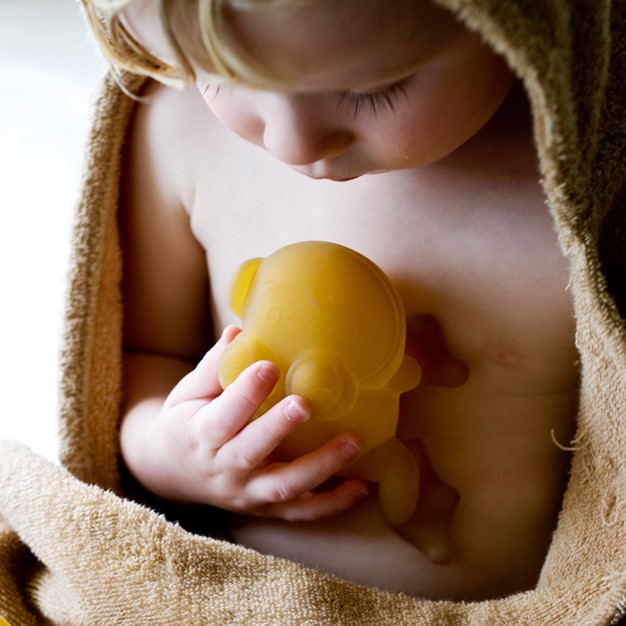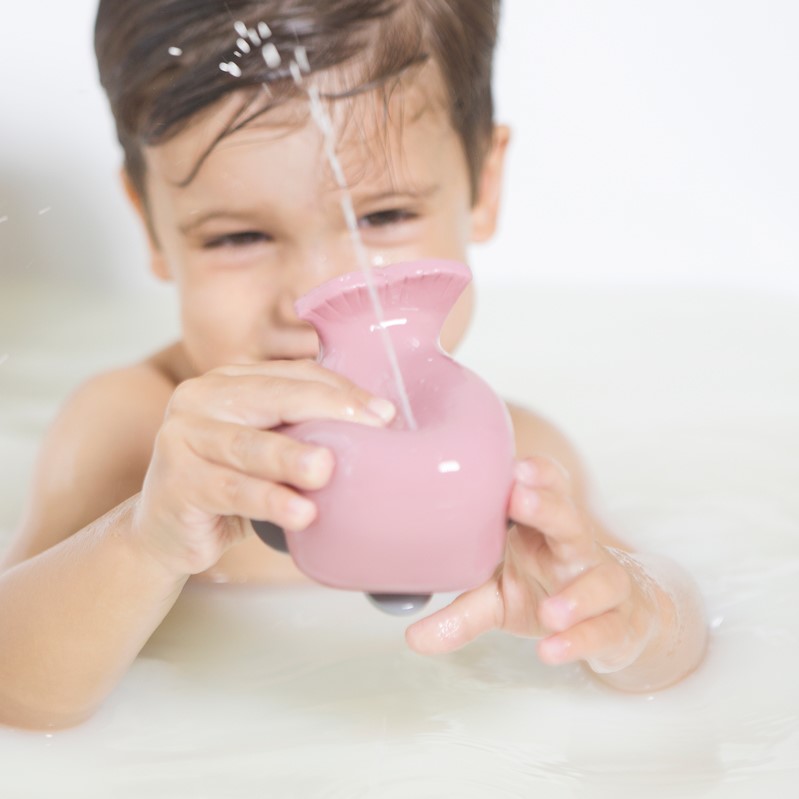 HEVEA Rubberwood Collection
Rubber wood that no longer produces latex is used in the toys of HEVEA's Rubberwood collection.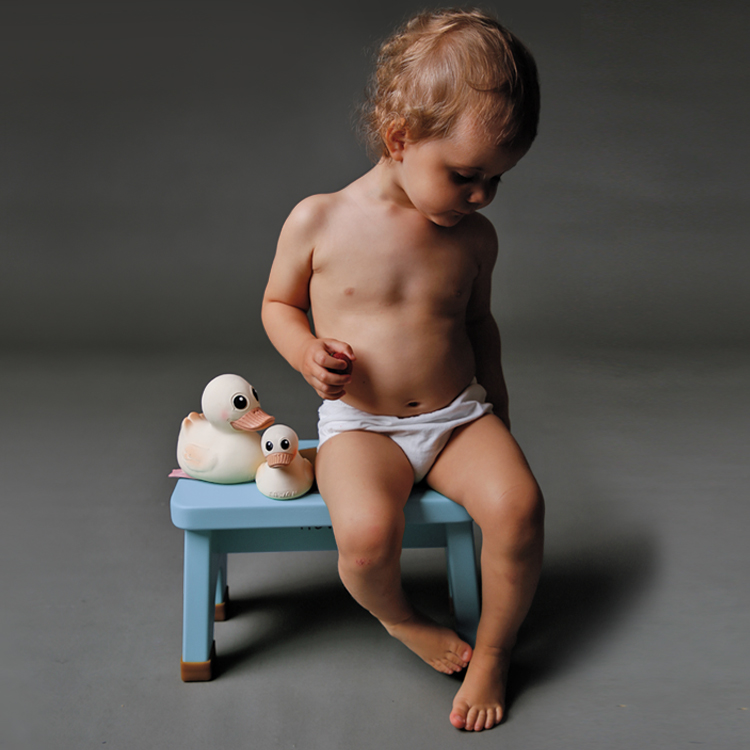 A menstural cup made of natural rubber is a naturally plant-based and completely non-toxic alternative during menstruation. HEVEA products do not contain silicone, plastic or other petrochemical products. This product is biodegradable and it can be used for 1-2 years.
Natural rubber is not only an ecological and responsible choise, but it is also a very soft an durable matrial. The unique shape and material of the HEVEA menstural cup makes it easy to fold and place correctly. The menstural cup offeres protection for up to 12 hours! Read more...
Puppy Parade products are made for the whole family - the material is durable and it can be used as a child's toy or as a chew toy for a small dog. The puppies are designed as excellent bath toys for children, and the breed selection als makes them a cute collectible set. The dyes used in Puppy Parade natural rubber toys are mineral-based, so you can be sure that they are completely non-toxic and safe.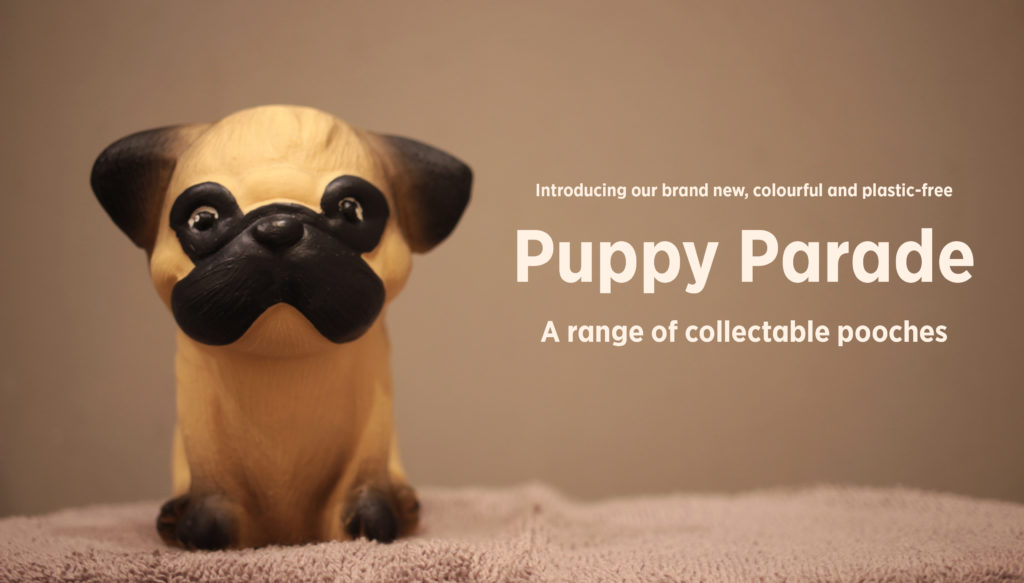 How to use HEVEA pacifiers?
Pacifiers should be washed or sterilized before use, either with a detergent for pacifiers/pacifier bottles according to the instructions for that product, or by sterilizing it in boiling water for about 5 minutes. After this, the pacifier is ready for use.
Why do my natural rubber products change color over time?
No antioxidants are used in HEVEA's natural rubber products to preserve the color, but it is a completely natural material and changes over time. This is normal.
Why is the pacifier greasy and smells funny when I took it out of the package? Is this dangerous for my child?
This is not dangerous for your child at all. The grease is vegetable oil that prevents the pacifier from drying out. It disapears completely when you wash the pacifier before use. The smell, on the other hand, is the characteristic smell of natural rubber, which is not harmful, but just the same as, for example, an apple!
How long can I use the same natural rubber pacifier?
The recomended use time of the pacifier is approx 2 months.
Can my child have an allergic reaction due to latex in the HEVEA products?
Latex allergy is very rare and occurs in an estimated 1-2% of the population. If your child has reacted to rubber products before or you notice any symptoms, consult a doctor.
How do I clean my HEVEA bath toys?
Bath toys should be washed by hand. The dishwasher is not a suitable washing method for bath toys. One washing method is to mix a little water with vinegar, and wash the toys in it.
How should chew toys be cleaned and can they be put in boiling water?
Kawan: the toy can be washed in warm water, with soap if necessary. Kawan chew toys are NOT resistant to boiling water.
Panda: the toy on the other hand can be cleaned in boiling water, but not the dishwasher.