From SELENACARE's menstural underwear, you can choose the right absorbency for every day of your period! In addition to menstural panties, SELENACARE's selection also includes re-usable panty liners and panties for urinary incontinence.
Ther are many benefits to switching from single-use menstural pads and underwear to re-usable options.
Compared to tampons and single use panty liners, the environmental impact of re-usable products is significantly lower. In addition to being ecological, using re-usable menstural pads and underwear also has a positive effect in the wallet.
What are menstural panties?
Menstura panties are the easiest to use and most inconspicious menstural protection; they are worn like normal underwear. The product offers full protection day and night during all activities.
SELENACARE menstrual underwear has a built-in absorbent pad. This pad, consisting of several layers, protects, absorbs menstrual flow and protects against unpleasant odors. The most absorbent menstrual panties in the SELENACARE collection offer up to 8 hours of leakage protection! Despite the many layers, the fabric technology is very thin, less than 2 mm, so the menstrual panties are comfortable to wear.
Wide selection of sizes and models, menstrual panties for every day of periods
We want you to feel good even during your periods. This is why the absorbency and appearance of SELENACARE menstrual panties go hand in hand. You will surely find a model you like in the collection: high- or low-waisted, lace-decorated, thongs and hipsters. In addition to the basic black color, you can also choose your menstrual panties in other colors, depending on the model.
SELENACARE's size range is wide: available in sizes S-XXL. In addition to this, the brand has its own teen collection in sizes 152-168cm.
SELENACARE's hygiene is based on SILVERPLUS® – silver chloride
The absorbent layers of SELENACARE products are equipped with RUDOLF GROUP's antimicrobial SILVERPLUS® finish. SILVERPLUS® prevents the growth of odor-causing bacteria and underwear remains hygienically clean even at low washing temperatures (30 °C).
Silver ion technology is certified according to the OEKO-TEX® Standard 100 standard. OEKO-TEX guarantees that all ingredients have been tested for harmful substances and that the product is harmless to health.
FAQ about period panties
How many pairs do I need?

On a daily basis, you need 1-3 pairs of underwear, depending on how heavy your period is.
The advantage of menstrual panties is that they can be washed in the machine with regular laundry. How many menstrual panties you need during one period depends not only on the duration of your period, but also on how often you do laundry.
If you do laundry several times a week, we recommend getting 4-5 pairs of underwear. You can get through periods stress-free with 6-8 pieces.
How to wash menstrual panties?
After use, rinse the menstural panties with cold water, after which they can be added with the other laundry. Thanks to the built-in antibacterial protection of SELENACARE underwear, a washing temperature of 30 degrees is sufficient. At the same time, energy consumption during washing can be reduced, which makes the cleaning process even more environmentally friendly. So you save energy and protect the environment!
Menstrual underwear should be dried at room temperature after washing.
SELENACARE's washable panty liners and sanitary pads fit comfortably against the skin, and the menstrual pad stays in place thanks to its simple fastening mechanism. Like menstrual panties, the reliability of this product is also based on the SILVERPLUS® finish, which prevents the growth of odor-causing bacteria.
Reusable menstrual pads are also excellent for daily use. On the heaviest days of your period, we recommend using a sanitary pad together with a menstrual cup.
Underpants for urinary incontinence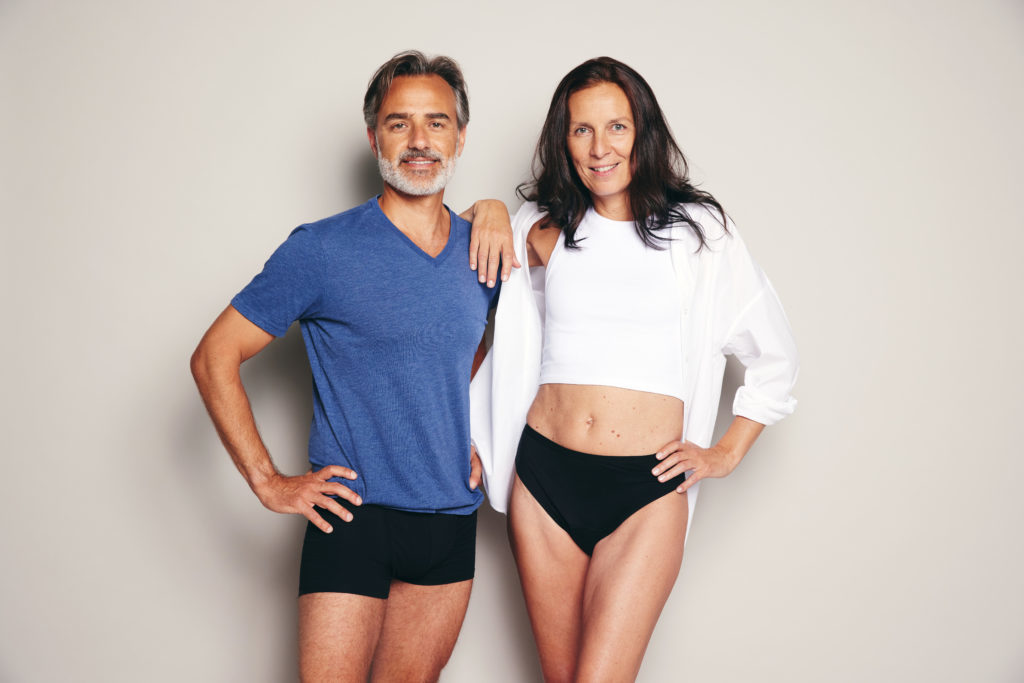 Discreet protection against urinary incontinence
Urinary incontinence when sneezing, laughing, lifting or during physical exertion is an awkward problem. SELENACARE's underpants for incontinence absorb liquid and prevent the formation of unpleasant odors.
In SELENACARE's selection, you can find underwear for urinary incontinence in both men's and women's models.